Home
>
Pugmills and Extruders
>
Specialised Pugmills and Tables
G78 Mixer Pugmill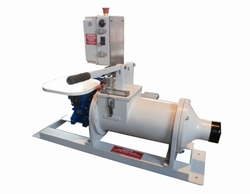 Product Code: G78
A new concept in the premier range of Gladstone pugmills, the G78 is a incredibly versatile batch mixing pugmill. The G78 enables the studio or educational potter to reclaim scrap clay in one easy process.
The G78 does not require continuous feeding, making it a safer and more efficient machine. Also, the loading lid is fully interlocked with a BSEN recognised standard, double-pole safety switch which operates through a electrical safety switch. This system prevents any contact between the operator and the moving paddles. Moreover, the pugmill is equipped with a thermal overload system which cuts the motor system out in the event of the unit overheating.
Key Features:
All cast aluminium barrels
Stainless steel shaft and mixing blades
Large Hopper for easy loading
Pugmill extrusion of 75mm outlet
Equipped with a vacuum pump, allowing for the de-airing of clay
Easy Cleaning
Hands-free pugging
This pugmill can perform a variety of different functions, including mixing moist clay from dry powder and water, blending of different clay bodies, the reclaiming of scrap clay and the adjusting of the moisture of clay bodies. This versatile machine can also be used for the extrusion of clay in various shapes and the de-airing of clay bodies.
£6,120.00 (£5,100.00
Ex VAT)
This item cannot be purchased online, please email us or call 01782 536615 to order.
Pallet Delivery: £114.00
(
£95.00
Ex VAT)
Specifications

Delivery Weight:
60kg
Drive Motor:
0.75Kw (0.75 Hp) reduction drive gearbox, direct drive, 230/400v
Construction:
Cast aluminium 200mm barrel with 75mm extrusion, spilt body to facilitate easy cleaning.
Finish:
Durable powder coated finish
Output:
Aproximately 12Kgs per batch (depending on clay type and moisture content)
Dimensions:
900mm long x 380mm wide x 650mm high
Weight:
60Kg
Gladstone Engineering reserves the right to change any specifications without notice.

Can't find what you are looking for or need some advice on some of our more complex items? Call us on 01782 536615



Sorry, no offers currently available


For orders requiring delivery to Highlands and Islands of Scotland, Northern Ireland, Isle of Man, Isles of Scilly or Channel Islands please contact us directly.