Home
>
Pugmills and Extruders
>
Specialised Pugmills and Tables
G74 Power Feed 100mm de-airing Pugmill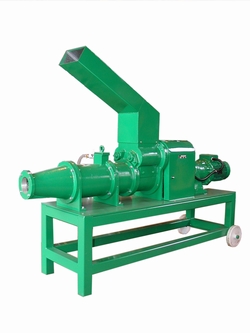 Product Code: G74
The Gladstone Power Feed Pugmill has been developed from our existing range of de-airing pugmills and incorporates all the latest developments within the range. The machine has been designed to provide excellent service and reliability with ease of maintenance and cleaning. The pugmill consists of a vertically split, high grade aluminium alloy barrel, with a 200mm internal diameter and a 100mm outlet nose cone. This nose cone can be interchanged with an optional tile nose cone for the production of different size tiles. Power is derived from a high torque helical inline motor and gearbox, which drives a stainless steel hexagonal shaft via a flexible coupling. On this there are mounted individual blades which can be altered to change the configuration of the auger itself. The pugmill is fed by a power feed chamber which is driven via a gearbox off the main drive shaft. The power feed chamber consists of two specially designed rollers which draw the clay into the main chamber of the pugmill. The chamber is protected by a safety hopper to prevent contact with the rollers by the operator.
£13,740.00 (£11,450.00
Ex VAT)
This item cannot be purchased online, please email us or call 01782 536615 to order.
Pallet Delivery: £288.00
(
£240.00
Ex VAT)
Specifications

Delivery Weight:
350kg
Vacuum pump:
High volume oil immersed
Drive Motor:
3 Kw (5 Hp) reduction drive gearbox direct drive 230 single phase / 400v three phase
Output:
Approximately 1000 Kg per hour
Construction:
Cast Aluminium 200mm barrel with 100mm extrusion , Split body to facilitate easy cleaning
Dimensions:
1905mm long x 620 mm wide x 1800 mm high
Gladstone Engineering reserves the right to change any specifications without notice.

Can't find what you are looking for or need some advice on some of our more complex items? Call us on 01782 536615



Sorry, no offers currently available


For orders requiring delivery to Highlands and Islands of Scotland, Northern Ireland, Isle of Man, Isles of Scilly or Channel Islands please contact us directly.