Home
>
Pugmills and Extruders
>
Pugmills
G56 Interlock switch for Pugmills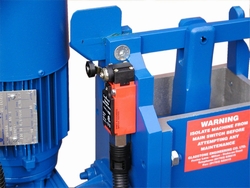 Product Code: G56
Gladstone pugmills can be fitted with a sophisticated safety interlock switch. This switch removes the need for a mechanical guard making the pugmills very easy to use while still meeting the required safety standards. The switches are of a special design in that they contain back up contacts and they meet the standards as defined by BSEN for the requirements of a switch to be used in guarding systems.
This switch must be purchased the same time as the pugmill
£540.00 (£450.00
Ex VAT)
Specifications

Delivery Weight:
1kg
Gladstone Engineering reserves the right to change any specifications without notice.

Can't find what you are looking for or need some advice on some of our more complex items? Call us on 01782 536615



Sorry, no offers currently available


For orders requiring delivery to Highlands and Islands of Scotland, Northern Ireland, Isle of Man, Isles of Scilly or Channel Islands please contact us directly.