Home
>
Pugmills and Extruders
>
Pugmills
G52 75mm Pugmill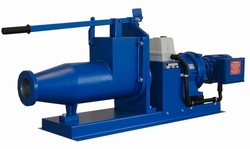 Product Code: G52
The G52 has a 6" aluminium body, 3" (75mm) extrusion and a split body to facilitate easy cleaning. Individual aluminium blades mounted on a hexagonal steel shaft mean that the blades can be altered for different configurations, allowing for better mixing or extrusion. The G52 has a inline helical drive unit for more efficient and greater performance over the G50E and is ideal for more heavy duty applications.
£4,020.00 (£3,350.00
Ex VAT)
Pallet Delivery: £114.00
(
£95.00
Ex VAT)
Specifications

Delivery Weight:
71kg
Drive Motor:
0.75Kw (1 Hp) reduction drive gearbox direct drive 230/ 400v
Output:
Approximately 360 Kg per hour
Dimensions:
1300mm long x 310mm wide x 510mm high
Construction:
Cast Aluminium 150mm barrel with 75mm extrusion , Split body to facilitate easy cleaning
Finish:
Durable powder coated finish
Gladstone Engineering reserves the right to change any specifications without notice.

Can't find what you are looking for or need some advice on some of our more complex items? Call us on 01782 536615



Sorry, no offers currently available


For orders requiring delivery to Highlands and Islands of Scotland, Northern Ireland, Isle of Man, Isles of Scilly or Channel Islands please contact us directly.