Home
>
Pottery Machinery
>
Slip Preparation
G87 Storage Arcs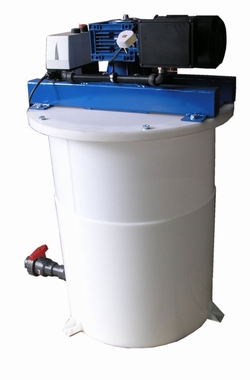 Product Code: G87
Gladstone engineering produce a range of storage arcs for ceramic slip of varying capacities from 50 gallons to 150 gallons.
Each unit is manufactured to a high standard and these units are ideal for small industrial use and also in colleges and Universities. The standard construction consist of a Polypropylene reinforced tank which is fitted with a sealed geared drive unit that drives a stainless steel gate paddle that has been specifically designed to maintain slip in suspension with out introducing air into the slip. All internal wetted parts are made of a non corrosive material so ensuring no contamination is introduced into the material being stored. All of Gladstones storage arcs can be fitted with inline vibratory sieves and magnetic separators as optional extras.
This item cannot be purchased online, please email us or call 01782 536615 to order.
Specifications

Delivery Weight:
0kg
Drive Motor:
0.37kw - 1.5 kw single phase 230 volts / three phase 400 volts
Capacity :
From 15 gallons up to 150 gallons
Dimensions:
Dependant on size required please enquire
Construction:
Fabricated steel mounting plate with Polypropylene tank , All internal parts are stainless steel
Finish:
Durable powder coated external finish
Outlet :
38 mm ABS ball valve or flanged out put on request
Optional extras:
Vibratory sieves , inline magnetic separators
Gladstone Engineering reserves the right to change any specifications without notice.

Can't find what you are looking for or need some advice on some of our more complex items? Call us on 01782 536615



Sorry, no offers currently available


For orders requiring delivery to Highlands and Islands of Scotland, Northern Ireland, Isle of Man, Isles of Scilly or Channel Islands please contact us directly.