Home
>
Pottery Machinery
>
Slip Preparation
G82 Blunger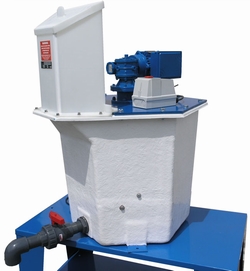 Product Code: G82
Blunging is the process by which powdered or plastic clay when mixed with water is reduced to slip for casting or decoration. The Gladstone blunger has been specially designed for this purpose. The blunger utilises two stainless steel paddles which rotate at approximately 150 rpm on a stainless steel drive shaft which is driven by a motor through a reduction gearbox. The hexagonal container is made from non corrosive material to prevent contamination and is fitted with an extended loading chute to avoid contact with the blades. The slip is run off through a valve at the base of the container. A stand can be supplied as an optional extra.
£3,252.00 (£2,710.00
Ex VAT)
Pallet Delivery: £114.00
(
£95.00
Ex VAT)
Specifications

Delivery Weight:
60kg
Finish:
Durable powder coated external finish
Drive Motor:
0.75 kw single phase 230volts
Capacity :
25 gallons / 112 litres
Construction:
Fabricated steel mounting plate with Fibre glass tank , All internal parts are stainless steel
Gladstone Engineering reserves the right to change any specifications without notice.

Can't find what you are looking for or need some advice on some of our more complex items? Call us on 01782 536615



Sorry, no offers currently available


For orders requiring delivery to Highlands and Islands of Scotland, Northern Ireland, Isle of Man, Isles of Scilly or Channel Islands please contact us directly.