Home
>
Pottery Machinery
>
Plaster Blenders and Mould Making
G85 Vacuum Plaster Blender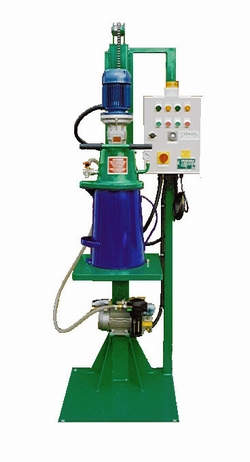 Product Code: G85
The Vacuum Plaster Blender has been developed to remove the air from the plaster during the mixing process. This will enhance the quality and durability of the mould without loss of water absorbtion. The machine consists of a free standing mixing unit and platform. The mixing head is counter balanced so as to facilitate ease of use. A 3 gallon polypropelene jug is provided which is specifically designed to form a seal with the mixing head itself. The Blender comes complete with a High Capacity Vacuum Pump and all associated electrical switchgear.
£8,382.00 (£6,985.00
Ex VAT)
This item cannot be purchased online, please email us or call 01782 536615 to order.
Pallet Delivery: £228.00
(
£190.00
Ex VAT)
Specifications

Delivery Weight:
140kg
Motor Drive:
0.37kw single phase 230volts Vacuum pump 0.37Kw single phase 230 volts
Capacity:
3 gallons / 18 litres optional 5 Gallon/ 22.5 litres
Dimensions:
650mm wide x 720mm depth x 1900mm high
Construction:
Electricaly welded steel frame Stainless steel shaft and mixing blade
Gladstone Engineering reserves the right to change any specifications without notice.

Can't find what you are looking for or need some advice on some of our more complex items? Call us on 01782 536615



Sorry, no offers currently available


For orders requiring delivery to Highlands and Islands of Scotland, Northern Ireland, Isle of Man, Isles of Scilly or Channel Islands please contact us directly.