Home
>
Pottery Machinery
>
Foot Wiper Machines
G151 Gladstone Foot Wiping Machine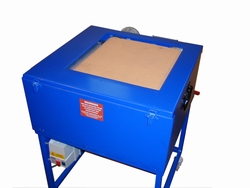 Product Code: G151
GLADSTONE FOOT WIPING MACHINE
The Gladstone Foot Wiper is a self contained unit and is fitted as standard with a sponge rubber belt. This belt passes through a water trough and the water content of the belt is controlled by an adjustable pressure roller. The Gladstone foot wiping machine is used in the fettling of ceramics in their green state, or for the removal of glaze after dipping or spraying in preparation for firing. The whole unit is hinged on its base to allow easy access to the water tank for replenishment and cleaning of the water supply, and also to allow easy changing of the sponge belt. The foot wiper can be bench mounted or if desired fitted to a fabricated steel stand which is mounted on swivel castors to allow the unit to be positioned at different work stations.
£5,040.00 (£4,200.00
Ex VAT)
This item cannot be purchased online, please email us or call 01782 536615 to order.
Pallet Delivery: £114.00
(
£95.00
Ex VAT)
Specifications

Delivery Weight:
55kg
Size:
Height 300 mm x Width 700 mm x Length 560 mm approx
Motor:
0.5Hp Single or Three Phase
Water Tank :
465 mm x 425 mm x 120 mm high
Gladstone Engineering reserves the right to change any specifications without notice.

Can't find what you are looking for or need some advice on some of our more complex items? Call us on 01782 536615



Sorry, no offers currently available


For orders requiring delivery to Highlands and Islands of Scotland, Northern Ireland, Isle of Man, Isles of Scilly or Channel Islands please contact us directly.