Home
>
Potters Wheels
>
Potters Wheels (electric)
G39 Gladstone "Atlas" Wheel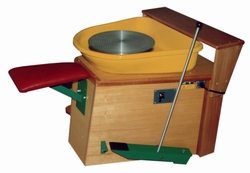 Product Code: G39
The Gladstone Atlas Wheel has been specifically designed for professional use and its' load capacity is in excess of 50 kilos of clay. The Atlas is constructed from a reinforced polished wooden cabinet with hardwood front and side legs and a hardwood integrated shelf. The wheel is complimented by a upholstered seat which is adjustable for height, and is fitted with a large moulded plastic bowl. The Atlas wheel sits 6" lower than a standard wheel of this type to enable the throwing of tall items. The drive is supplied via a twin belt drive from a 0.75 Kw (1Hp )motor which is controlled via a sophisticated control unit that is capable of maintaining high torque response at slow speeds.
The wheel is almost silent in operation and also offers a extremely smooth response, making this wheel for the discerning professional who requires a work horse of a wheel with great power and reliability.
£2,928.00 (£2,440.00
Ex VAT)
Pallet Delivery: £102.00
(
£85.00
Ex VAT)
Specifications

Delivery Weight:
90kg
Dimensions:
1170mm long x 780mm wide x 760 mm high
Drive Motor:
Ac variable speed 0.75Kw (1 Hp) industrial continually rated 0-280 RPM 230v power supply
Wheel Head:
12 inch (305 mm) Aluminium , Optional easy lift and studded wheel heads for bats available
Construction:
Polished wooded cabinet with heavy duty sealed for life bearings
Gladstone Engineering reserves the right to change any specifications without notice.

Can't find what you are looking for or need some advice on some of our more complex items? Call us on 01782 536615



Sorry, no offers currently available


For orders requiring delivery to Highlands and Islands of Scotland, Northern Ireland, Isle of Man, Isles of Scilly or Channel Islands please contact us directly.