Home
>
Potters Wheels
>
Potters Wheels (electric)
G34 Bailey Wheel including G38 Seat and G34S Shelf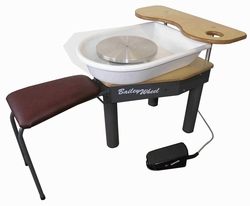 Product Code: G34 - Complete
The Gladstone Bailey wheel offers the studio and professional potter a wheel of unparalleled performance and versatility in a compact and user friendly design.
The Bailey wheel has been designed to complement a European style of throwing with the wheel head set at a greater height than most wheels of this style allowing a more comfortable throwing position.
The wheel is powered by a super smooth 1/2hp drive that is controlled by a computer enhanced VF drive that due to its unique design can generate up to the peak equivalent of 1Hp under heavy loads this enables the wheel to give constant smooth power through out the speed range and is extremely quiet in operation. The Bailey wheels has a large one piece splash tray and can also be supplied with numerous options that can be added to the wheel.
£1,776.00 (£1,480.00
Ex VAT)
Pallet Delivery: £96.00
(
£80.00
Ex VAT)
Specifications

Delivery Weight:
50kg
Dimensions Approximate:
98cm Long x 47cm wide x 68cm High
Gladstone Engineering reserves the right to change any specifications without notice.

Can't find what you are looking for or need some advice on some of our more complex items? Call us on 01782 536615



Sorry, no offers currently available


For orders requiring delivery to Highlands and Islands of Scotland, Northern Ireland, Isle of Man, Isles of Scilly or Channel Islands please contact us directly.