Home
>
Potters Wheels
>
Potters Wheels (electric)
G31 Gladstone "Power" Wheel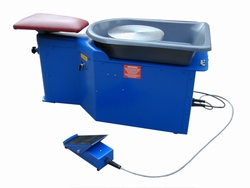 Product Code: G31
The Gladstone Power Wheel is a sturdily built all metal wheel designed to provide long trouble free service. The design lends itself to either studio or home use and is also ideal for the education environment due to its compact and robust design. In order to eliminate the constant need for care and attention the power wheel has been constructed of aluminium and steel. This wheel will withstand the hard use, undamaged that is so essential a requirement in the college or school environment. The seat is foam filled, covered in simulated leather and is fully adjustable for height. The control of the wheel is via the remote foot pedal that can be pre set to maintain speed of the wheel head, it also enables a teacher to control the wheel form a comfortable position for the student. The wheel is fitted with a reverse switch to enable the wheel head to rotate clock wise for turning or for the left handed thrower.
£2,388.00 (£1,990.00
Ex VAT)
Specifications

Delivery Weight:
64kg
Drive motor :
0.37Kw (0.5Hp) 0-280 rpm
Wheel head :
12 inch Aluminium , Options available
Dimensions:
1120mm long x 450mm wide x 580mm high
Gladstone Engineering reserves the right to change any specifications without notice.

Can't find what you are looking for or need some advice on some of our more complex items? Call us on 01782 536615



Sorry, no offers currently available


For orders requiring delivery to Highlands and Islands of Scotland, Northern Ireland, Isle of Man, Isles of Scilly or Channel Islands please contact us directly.