Home
>
Industrial Plasticene Extruder
>
Industrial Plasticene Extruder
G75D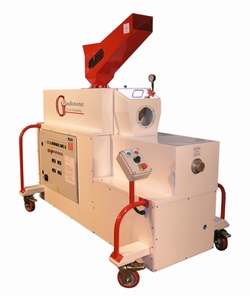 Product Code: G75D
This machine the G75D is manufactured by GLADSTONE Eng Co and is a natural development of the well proven G75.
The machines primary advantage over the G75 is that it uses a Duplex extruder construction and is fitted with a Vacuum chamber and high performance vacuum pump. This de-airs the modelling clay as it passes through the machine and gives a distinct improvement over the extruded modelling clay when
compared to the standard G75. The ability to extrude de-aired heated modelling clay almost instantly has
numerous benefits in today's busy and environmentally conscious studios.
The key points that the G75D offers is that the unit can not only reclaim scrap and machined shavings, in itself a considerable saving, but the fact that it can also remove a high percentage of air bubbles within the
modelling clay. This enables it to be used for the initial laying up and, in most cases, for applying a finishing layer.
This item cannot be purchased online, please email us or call 01782 536615 to order.
Specifications

Delivery Weight:
0kg
Dimensions:
Weight:
Gladstone Engineering reserves the right to change any specifications without notice.

Can't find what you are looking for or need some advice on some of our more complex items? Call us on 01782 536615



Sorry, no offers currently available


For orders requiring delivery to Highlands and Islands of Scotland, Northern Ireland, Isle of Man, Isles of Scilly or Channel Islands please contact us directly.