Home
>
Industrial Plasticene Extruder
>
Industrial Plasticene Extruder
G75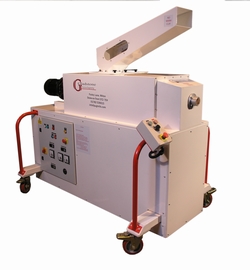 Product Code: G75
This machine the G75 is manufactured by GLADSTONE Eng Co and is ideal for large or small amounts of heated modelling clay to apply to your model. The machine is also portable to move to your model to speed up the process of laying on clay to your buck as long as a suitable power source is available. It will process large or small amounts of clay as required after its initial warming up period approx 45 minutes there after clay is available as required all day long.
One of the key advantages of this machine is its ability to reclaim scrap material, be it shavings from the initial model or large lumps from the break up of obsolete models, if they are suitably broken up into reasonably sized pieces to fit into the machine's hopper.
This item cannot be purchased online, please email us or call 01782 536615 to order.
Specifications

Delivery Weight:
0kg
Dimensions:
Weight:
Gladstone Engineering reserves the right to change any specifications without notice.

Can't find what you are looking for or need some advice on some of our more complex items? Call us on 01782 536615



Sorry, no offers currently available


For orders requiring delivery to Highlands and Islands of Scotland, Northern Ireland, Isle of Man, Isles of Scilly or Channel Islands please contact us directly.