Home
>
Glaze Preparation
>
Mills
G93 Ball Mill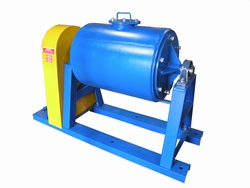 Product Code: G93
Ball mills are used in the grinding and processing of numerous materials including glazes, they are also used in the minning construction and chemical industries. We supply numerous designs built to customers requirements and can be fitted with various lining including Alumina brick Rubber Polyurethane etc.
This item cannot be purchased online, please email us or call 01782 536615 to order.
Specifications

Delivery Weight:
300kg
Drive Motor:
2.2 Kw 400v 3 phase
Speed range:
Variable
Dimensions:
Length 1500mm x width 700mm x 1300mm high
Construction:
Mild steel frame and mill linned with Alumina Brick
Capacity:
50 Kilos material
Finish:
Durable powder coated finish
Gladstone Engineering reserves the right to change any specifications without notice.

Can't find what you are looking for or need some advice on some of our more complex items? Call us on 01782 536615



Sorry, no offers currently available


For orders requiring delivery to Highlands and Islands of Scotland, Northern Ireland, Isle of Man, Isles of Scilly or Channel Islands please contact us directly.