Home
>
Glaze Preparation
>
Mills
G90 Jar Mill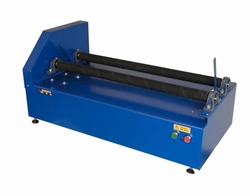 Product Code: G90
The Gladstone Jar Mills are used to grind ceramic materials in porcelain jars of varying capacity. They are constructed from fabricated mild steel and finished in a durable high gloss powder coating finish.
There are two sizes available; the G90, which is designed to carry up to one single gallon jar (4.5 litres ) and the G91 that can carry up to two single gallon jars. The jar mills have adjustable rollers so they can also accommodate multiples of smaller diameter jars.
Jars are not included.
£1,560.00 (£1,300.00
Ex VAT)
Pallet Delivery: £102.00
(
£85.00
Ex VAT)
Specifications

Delivery Weight:
70kg
Dimensions:
Length 600mm x width 510mm x 540mm high
Construction:
Mild steel frame , self aligning sealed for life bearings
Drive Motor:
0..33 Hp 220volts single phase with thermal over load
Capacity:
One 4.5 litre Jar
Finish:
Durable powder coated finish
Gladstone Engineering reserves the right to change any specifications without notice.

Can't find what you are looking for or need some advice on some of our more complex items? Call us on 01782 536615



Sorry, no offers currently available


For orders requiring delivery to Highlands and Islands of Scotland, Northern Ireland, Isle of Man, Isles of Scilly or Channel Islands please contact us directly.