Home
>
Potters Wheels
>
Potters Wheels (electric)
G40 Gladstone "Stratford" Wheel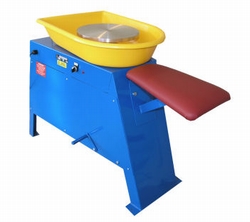 Product Code: G40
A well designed and constructed wheel suitable for the professional studio potter and educational establishments. The wheel is extremely robustly built with a durable powder coated sheet steel construction, the G40 incorporates heavy duty sealed for life bearings and is driven by a electronic variable speed motor which give excellent speed and torque response and also makes the wheel very quiet and smooth to operate. The wheel is complete with a 12" aluminium wheelhead, an adjustable foot pedal and a large height adjustable padded seat.
£2,064.00 (£1,720.00
Ex VAT)
Specifications

Delivery Weight:
70kg
Drive Motor:
Ac variable speed 0.37Kw (0.5Hp) industrial continually rated 0-280 RPM 230v power supply
Wheel Head:
12 inch (305 mm) Aluminium , Optional easy lift and studded wheel heads for bats available
Dimensions:
920mm long x 690mm wide x 785mm high
Construction:
Fabricated sheet steel construction with a durable powder coated finish
Gladstone Engineering reserves the right to change any specifications without notice.

Can't find what you are looking for or need some advice on some of our more complex items? Call us on 01782 536615



Sorry, no offers currently available


For orders requiring delivery to Highlands and Islands of Scotland, Northern Ireland, Isle of Man, Isles of Scilly or Channel Islands please contact us directly.