Home
>
Potters Wheels
>
Potters Wheels (electric)
G37 Gladstone "Knightsbridge" Wheel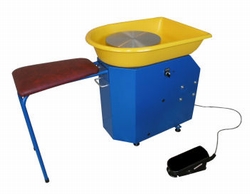 Product Code: G37
Shown with Optional Seat
The Knightsbridge Wheel is one of our most popular wheels, as it is light and compact allowing for easy transport in the back of a modern hatch back. The Knightsbridge wheel uses a 0.37Kw (1/2Hp) motor which is controlled by the same control unit used in our more expensive wheels, this provides unrivalled power and torque in a wheel of this size and offers a extremely quiet and smooth operation. The wheel is completed by its remote foot pedal which is fitted as standard and the wheels ability to reverse rotation at the flick of a switch. The Knightsbridge Wheel is very competitively priced and is highly recommended.
£1,416.00 (£1,180.00
Ex VAT)
Pallet Delivery: £96.00
(
£80.00
Ex VAT)
Specifications

Delivery Weight:
40kg
Drive Motor:
Ac variable speed 0.37Kw (0.5Hp) industrial continually rated 0-280 RPM 230v power supply
Dimensions:
630 mm long x 470mm wide x 680 mm high
Wheel Head:
12 inch (305 mm) Aluminium , Optional easy lift and studded wheel heads for bats available
Construction:
Fabricated sheet steel with a durable powder coated finish , sealed for life main bearings
Gladstone Engineering reserves the right to change any specifications without notice.

Can't find what you are looking for or need some advice on some of our more complex items? Call us on 01782 536615



Sorry, no offers currently available


For orders requiring delivery to Highlands and Islands of Scotland, Northern Ireland, Isle of Man, Isles of Scilly or Channel Islands please contact us directly.